Enea is a company associated with the north-western Poland and has always been an active member of the community where it grew up. We are aware that we carry a special responsibility over local communities in the regions where the companies of the Group are planted. For this reason, through the activities of the Enea Foundation and volunteer activities of our employees, we are actively involved in socially important goals and initiatives.
Principles of cooperation with communities
We want to keep our social commitment based on clear principles. Therefore, in 2014, Enea established the Foundation, which, basing on the statute, organizational rules and the rules for granting support, is responsible for activities in the area of social commitment. The Foundation both carries out its original projects and coordinates volunteering throughout the Group.
In 2015, the Enea Foundation supported important goals and social initiatives with donations of a total amount of 960,200 PLN.
The main areas of Enea Foundation activities: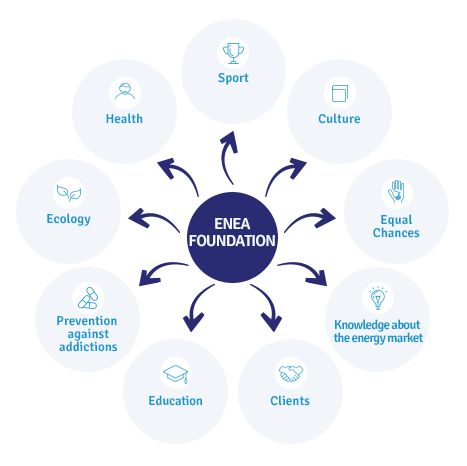 Rules of support are available on the Foundation's website.
Moreover, in 2015, the Enea Group developed the program ENEA Sports Academy dedicated to children and young people from four provinces within the distribution area of Enea.
Within the program:
73 schools from the provinces of Wielkopolska, Lubuskie, Kujawsko-Pomorskie and Zachodniopomorskie were covered by the activities of the Academy;
2,100 children benefited from sports activities (extracurricular or organized in partnership sports clubs);
for schools participating in the program, the competition "ENERGY + Active school" was organized.
The winners received vouchers for the purchase of sports equipment.
Sponsoring
The Enea Group conducts numerous sponsoring projects. In this way, we build brand recognition and support business objectives while supporting the areas of culture and sport appreciated by us, our customers and local communities.
In 2015, Enea SA completed 43 sponsoring projects in 487 Polish cities, reaching one million direct participants of the events.

| We were an active sponsor of such events and sports initiatives as: | We were a sponsor of such cultural events and projects as: | We were a sponsor of such events and projects as: |
| --- | --- | --- |
| | | |
| • Enea Challenge Poznan and a series of triathlon competitions Enea Tri Tour; | • Enea Perfect Tour – a nationwide tour to celebrate the 35th anniversary of the band Perfect; | • Enea Sports Academy (joint project with the Foundation Enea); |
| • Herbalife Ironman 70.3 Gdynia; | • Enter Enea Festival; | • EneaMini Cup – football game for kids; |
| • Polish Speedway Team and other speedway projects; | • Spring Break; | • The project "Energy + Sparkling emotions" - a project started in 2015, its goal is to activate the presence of the brand in the winter season thanks to Enea Truck and promotional events organized at the Polish rinks. |
| • Stelmet BC Zielona Gora; | • Malta Festival Poznan; | |
| • Enea AZS Poznan. | • Grand Theatre in Poznan. | |